Advertise With Us
Free for 30 Days!
Effective January 1, 2001
Banner Advertisement with Hyperlink
     Place a FREE banner display ad on one or more of the Bulldog News featured pages for 30 days. Your ad will include a hyperlink direct to your World Wide Web page. You will have the flexibility to update your message frequently, allowing you to respond quickly to changes in your business.
     Advertising will be available for your customers to view 24 hours per day, 7 days a week. Your business will be listed in the Bulldog News Destinations Guide.
     Trying to decide if you could increase sales by advertising on a Valley Press Web site? With a Valley Press Web site you can get a handle on your competitor's Web Site usage.
     The Bulldog News NetRatings' Audience Measurement Service provide's its sponsors with the specific information they need to make informed decisions.
     Not only do you see comprehensive audience activity across all Web sites where your Banner ad is deployed, but Valley Press is the only Web site service that features detailed ad banner reporting for use in competitive research, post-buy and creative sales strategy.
     Ease of use, and flexibility are built into the reporting interface, allowing extensive drill-downs and custom queries on-the-fly. With weekly and monthly reporting, this syndicated information service is delivered online so that you always have access to the most up-to-date information possible.
     What Banner Ads on which sites best reach my target market? What is my most efficient Banner Ad buy? Where are my competitors advertising? What is the creative content of their Banner ads? What audience are they reaching and how effectively? Who is your Valley Press Web site reaching? How does your Free PressWeb site audience compare to your competitors?
     Where are you going to go to find out? Valley Press has the answers you are looking for! Contact Valley Press Advertising Dept.
Banner Advertisement with Web Site Package
     For business advertisers who need a Web site to display their marketing message, we have a firecracker offer. When you purchase a 2,000 impression Run of Site Banner Ad on Bulldog News, we'll design and host your business Web site for $50 per month and waive normal setup fees!
     Link your Banner Ad directly to your site on Bulldog News, communicate with your customers through a Clovisnews.com e-mail address, forward e-mail to your existing e-mail account, and much more!
     Corporate sponsorships are available for the Bulldog News Web site. Sponsorship is a valuable investment that pays dividends in heightened customer awareness, enhanced image and perception of quality and loyalty. Bottom-line, your business will benefit from an "Image that Sells."
     Customer's attitudes about product quality and loyalty have a direct impact on purchasing behavior. Several recent Pathfinder studies have underscored the relationship between buying behavior and perceptions of corporate citizenship.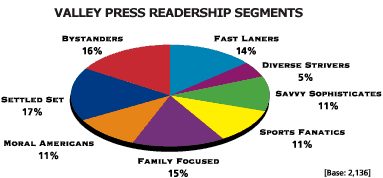 Catch this! A solid 85% of Web site users surveyed this week could name one or more sponsors of the Free Press site.
      Bulldog News Web site programming is a visual oasis in today's thousand e-message a day world, corporate sponsors stand out on and sponsors feel good about their support. Because our audience trusts us and our sponsors there is a measurable trade-off in increased attention to our sponsors' business Web sites! Contact Valley Press Advertising Dept. for more information on this excellent package deal.
Monthly Banner Ad Rates


| | | |
| --- | --- | --- |
| Description | Set Up | Cost per 1,000 |
| Run of Site | $25.00 | $25.00 |
| Rotation by Section | $25.00 | $25.00 |
| Exclusive Placement | $25.00 | $50.00 |
Monthly rates for banner display or link advertisements are based upon the number of impressions (the number of times your ad is displayed).
     Set up fee is based upon 2 hours initial design , plus a maximum of 1 hour per week for revisions.
     Additional time or custom design work will be charged at $75 per hour. Ad sizes will conform to 468x60 in dimension, the same as the ad at the top of this page and our home page.
Banner Ad Formats

Run of Site:
Your banner display ad will rotate on every Section, Story, and Feature page of the Bulldog News newspaper.
Section Rotation:
Your banner display ad will rotate in a specific section within BulldogNews.net. Up to five banner ads may rotate within a given section.
Exclusive placement:
Your banner display ad will be placed on a specific page and give you exclusivity on that page.

Rates
Find your customers within a range of subjects and specific groups.
General Rotation: Banner ads are placed generally throughout WebPortal sites. Text ads are placed within messages of lists hosted by our service.
Run of Category: Banner ads rotate through a specific major category within the WebPortal site. Text ads appear within messages of lists classified in specific major categories.
Micro Category: Banners are placed on specific, highly targeted individual pages of a designated Valley Press site. Text ads appear within messages of specific lists. Rich media campaigns can be accepted with seven day advance notice. Please contact us for pricing and details.
| | |
| --- | --- |
| Ad Unit Type | General Rotation Target |
| Category Target | $20 CPM |
| Affinity Target | $30 CPM |
Quantity and frequency discounts available.
Web Page Design
We can build your Internet Web pages for you and even create your website for you. Basic HTML web design is based on a rate of $75 per hour. Special programming and CGI scripting is based upon a rate of $95 per hour.

     The overall cost of a project is based on the size and complexity of the site as well as the quality and format of content and graphics to be included. Please Contact Valley Press Advertising Dept. for Web Site price quotes.
 Creative Specifications
Banners should be submitted 48 hours before placement.


Ad banners can be no larger than 20 KB.


Standard banner size: 468 x 60 pixels.


File type: Animated .GIF or static .JPG

Delivery may be made via email attachment or disk media.

Valley Press Readership Statistics
The Valley Press uses a patented computer program to monitor Web surfers' use of the Web site, and gathers random sample interview material and anecdotal records for statistical purposes. In addition, proprietary in-house statistical software applications are used analyze trends.
     Considerable detail is also obtained by random sampling of statistics gathered by the Valley Press to determine the characteristics of readers of the news publications with particular attention to the economic data displayed on the VP Demographics & Distribution page.
Who to Contact
Interested in hot new animation banner ads in our across the board media publications? Contact Valley Press Wire. For specific media wire markets see the contact table below:
Palo Alto HQ Office
555 Bryant St. # 124
Palo Alto, CA 94301
Stanford Wire
Telecom: 650-326-2228



Clovis Free Press
754 Third Street, Ste. 102A.
Old Town Clovis, CA 93612
Trail Wire
Telecom: 559-299-9113



California Star
Steven Calley
Bay Wire
Telecom: 650-326-2228



Mother Wire Magazine
Laurie Kobliska
Mother Wire
Telecom: 650-326-2228


Fresno Republican
Editor
Fresno Station Wire
Telecom: 650-326-2228


Tower District News
Amy Williams
Tower Station Wire
Telecom: 650-326-2228


Daily Republican
Editor
Washington Wire
Telecom: 650-326-2228


PC Paramedics Report
Fig Garden Office
Mobile Wire
Telecom: 650-326-2228



American Law Review
Stephanie Malden
Law Wire
Telecom: 650-326-2228



Bulldog News at Fresno State
Amy Williams
U-Wire
Telecom: 650-326-2228


Woodward Park Times
Andrew Levenger
Amphiteater Wire
Telecom: 650-326-2228


Yosemite News
Valley Press Office
Nature Wire
Telecom: 650-326-2228