Friday June 6, 2003
2nd Annual Father's Day Fly-In Saturday, June 14, 2003 -
Chandler Field Airport
By Amy Williams, Staff Writer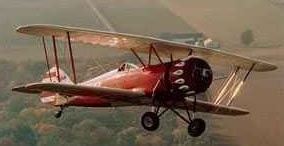 FRESNO STATE -- On Saturday, June 14th 2003, historic Chandler Airfield will be the sight of one of the largest Fly-Ins on the West Coast. Join K-Jewel as we celebrate "100 Years of Aviation" with a display of our marquee aircraft "Waco".
Pilots from all over the United States will be arriving throughout the day to display their airplanes. Aircraft from over seven decades will be on display - from military planes to experimental and homebuilt planes to vintage aircraft.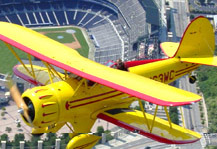 In the evening, there will be a USO Dinner/Dance featuring Joe Lenigan's Big Band. Children 12 years and under admission is Free Chandler Airport, in Fresno.

[Editor's Note:Fly-In: 9:00am-4:00pm $5 per person.Sponsored by K-Jewel 99.3 FM . To reserve your seat at the Dinner/Dance pre-purchase your tickets by contacting K-Jewel at this number: 559-497-5118. ]
©1958-2003 Bulldog Newspaper Foundation.
All Rights Reserved.