May 20, 2003
Luxury Apartments
Destroyed Overnight
Burning Questions Remain
By Thomas Hobbs, Staff Writer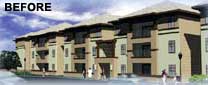 FRESNO STATE -- Emergency Traffic Advisory: University Police asked anyone coming to the campus this morning to avoid Barstow and Cedar Ave. approaches from the north side. A fire at an off-campus student apartment community has caused a traffic hazard. Unrestricted access is from the South and East roads to the campus via Chestnut or Shaw Avenues only.
Our reporters discovered the fire in the early hours around 6:30 a.m. The Bulldog News has been advised that all power to the main campus has been lost temporarily. University officials advised that power might be restored by 9:00 a.m. this morning, but don't count on it.
The fire occurred just east of the intersection of Cedar Avenue and Barstow, directly across from Bulldog Stadium. The cause of the fire is unknown but it completetly destroyed the new luxury student apartment community known as University Village set to open in the next few weeks.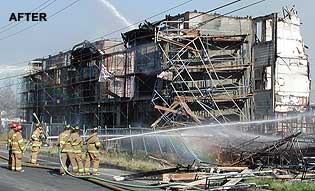 When complete, the new $16 Mil University Village was to be a 105 unit complex to house over 400 students.
The arrangement is an individual liability lease where students are to be responsible only for their own rent. Size of the units was to range from 700 sq. ft. to over 1,000 sq. ft. with rents from $499 to $550 per bedroom.
Unit amenities were to include fully furnished apartments with private bathrooms, full kitchens, large living rooms, washers and dryers, full length mirrored closet doors, cable TV and internet service included.
The project concept was that of the American Campus Communities, Inc. of Austin, TX. The Web site for the 1680 E. Barstow complex is http://www.universityvillagefresno.com. For questions concerning refunds on rent deposits and lease agreements contact Ph.(559)431-5881. The Leasing Office address given by the builder is located in Bulldog Plaza, 1766 E. Barstow, CA 93710, Ph.(559)431-5881.
[EDITOR'S NOTE: This reporter telephoned the University Village leasing office for information about refunds. The person answering identified herself as Tamara Smith, a leasing agent for the project at 1680 E. Barstow. I said, "How about refunds for deposits on rent?" Her answer, "I can't say..."]
©1958-2003 Bulldog Newspaper Foundation. All Rights Reserved.

May 20, 2003
~ UPDATED ~
More on Burning Questions
By Thomas Hobbs, Staff Writer
FRESNO STATE -- The Bulldog News has received confirmation of the following important information from Jason Wills, Vice President of American Campus Communities regarding this morning's University Village Fire. He states, "The American Campus management team is working to communicate with the current applicants who were to move in in late August... All deposits and application fees will be refunded to current applicants."
For more information please contact Jason Wills at the following numbers: (512)732-1000 or (512)415-3614.
©1958-2003 Bulldog Newspaper Foundation. All Rights Reserved.